Based in South Wales, Break the Mould Creative was launched back in 2009. We saw a gap in the creative market for the use of Polyurea to hard coat and protect; props, sculptures and structures.
This came in direct competition of fiberglassing (GRP) and other traditional methods whereby it superseeds them in not only the finish but dramatically cuts down the time taken in the coating process.

Several years later we are proud to have completed many projects with the likes of John Lewis, Selfridges, Warner Brothers and ITV to name but a few.

We love to get involved with our clients projects from the initial concept to the final design, whether it be just advice or getting hands on. This ranges from one off bespoke designs to large volume projects. Customer service is paramount to us, having worked incredibly hard to build and maintain our reputation.
The Future
We have plans to expand within the next 18 months. Moving from our original premises to an 15,000 sq.ft purpose built building. Capitalising on the space this will enable us to not only employ new staff and expertise but to take on larger contracts.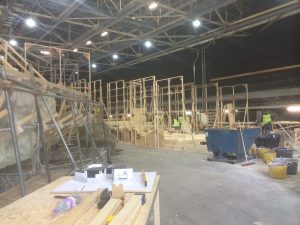 History
Starting off as George Rigden and Son's back in the 1960's, we were heavily involved in the open cast mining industries being the go to company for the likes of Caterpillar and Komatsu for all of their machinery repairs.

Fast forwarding to today our engineering expertise from our fathers business overlaps in many of our clients projects for the creative industry. This not only makes each project more interesting for us but add's value to what we can offer you as a client.